JCI Michigan!!! I just got back from the trip of a lifetime to Tallinn Estonia for JCI World Congress. This organization has provided me with the most amazing opportunities. As I think about that I also see so many great things are on the horizon for us! This year is soaring by and I find myself in awe of all of the amazing things are chapters are doing this year. Take a few moments to soak it all in. Look back to January and see how far you have really gone! So much amazing impact in such a short time!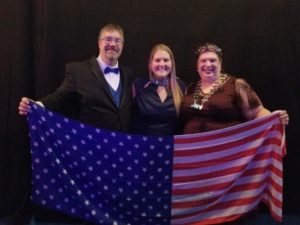 I am inspired by you and I am going to do all I can to finish this year strong! I believe that we can accomplish our goals together and this is our time to shine!  Let's show this world what a dedicated Wolfpack looks like!
Incoming President Sarah Austin and her team had a great LOTS (Local Organization Training School) on November 9th. If you were unable to attend, please contact the 2020 team to get filled in!  I'm sure team 2020 will help chapters and members understand the roadmap to success in the upcoming year.
My final State event as your president will be our amazing year end leadership conference Feb 7-9th 2020 in Ann Arbor. It will be a celebration to remember so make sure you get your tickets so you can live the dream with all of us! Thanks for being part of this One Team One Dream journey with me! Let's Rock this last couple months like never before!