Here's our District Directors' latest batch of news and Member Spotlights from Around the Mitten.
---

Show some love to the Cadillac Jaycees this year, and sign up for their first ever Virtual 5K called Running 4 Paws. You can run, walk, jig, jive, jog, skip anywhere you like, no need to be local. Complete this 5K between September 16th to the 30th with hashtags #cadillacjaycees and #running4paws when completed!
Your $35 registration comes with a Running 4 Paws shirt, medal, and race bib with possibly some bonus Cadillac Jaycees swag. Registration helps shelter animals, as well as supporting their local projects, such as their Easter Egg Hunt and Coats for Kids.
Thank you for your support and making a difference, as they navigate this difficult fundraising year!
---
Navdeep's favorite Jaycee memory is planning The 91st Year End Gala for the Grand Rapids chapter. She had a blast planning it and creating memories.
Her Jaycee project is The Holiday Shopping Tour because it was the first project she took part in. Her second favorite is The Visionaries Inspires, where entrepreneurs share their experiences with people. Navdeep is an Administrative Manager at Khalsa Metal Products.
This past month in D2 the Allegan Jaycees hosted an in person event in a safe outdoor environment. They spent an afternoon cleaning up their local Jaycee Park in Allegan that was funded and started by this chapter many years ago. They also had a membership table with information available for any potential members. Thank you Allegan Jaycees for promoting the JCI organization to your community of young and active citizens!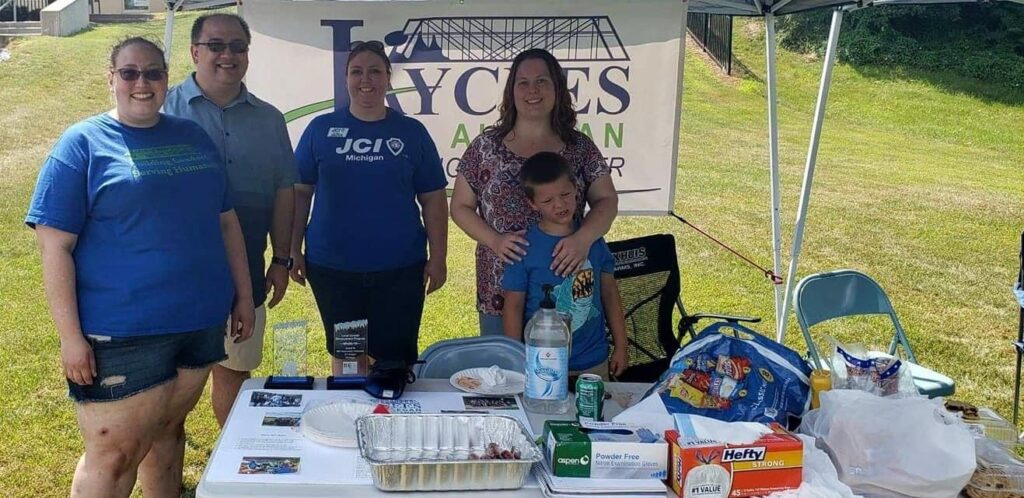 JCI South Kent also held an in person community event. They provided 504 backpacks full of school supplies for kids with lower income households in the Kentwood, Michigan community. The chairperson of the event, Heather Pilarz applied for the Jaycees Foundation grant and was awarded $5,000.00 to help pay for this project. The chapter provided the rest of the funds. Heather is a passionate dedicated educator and understands the importance of providing kids with the necessary tools to be successful in the school year. The project Backpacks for Hope has been an annual tradition and partnership with the Green Apple Pantry in Kentwood, Michigan. This project was a great success and thank you to all the D2 members, JCI South Kent members, JCI senators, JCI members, JCI friends and family who helped transport, stuff and deliver the 504 bags. Thank you JCI South Kent for making a difference to 504 students in your local community!
D2 would like to personally invite each and every JCI member to a fall social on the north side of Grand Rapids. The social will be held outside at Robinette's (3142 Four Mile Rd NE, Grand Rapids, MI 49525) on Saturday 10/24 at 10am. We will be meeting by the big red apple outside.
---
D3 is busy planning new fundraising projects since COVID-19 cancelled many of our normal chapter fundraisers. The Ionia Jaycees are no different. They are gearing up for a Virtual 5K during the weekend of Oct 2-4. Sign up here: https://runsignup.com/Race/MI/Ionia/IoniaJayceesVirtual5KRunWalk?fbclid=IwAR1wxL_QZlrIVYYHHZqD1SAJl0C2Jkn8DDf-sxAbnu9xJjETkzTZGzMNV1Y
If you plan on participating and would like to join D3 Director, Carena, in a walk, run, bike, skip social distancing day of 5K, email her at [email protected]
Return to Top
---
---
Maegan used the isolation of quarantine in a positive way creating a Jaycee Penpal program with over 400 pals to date! She says she had no idea it would grow so quickly and she's bit sure what the next step is for the program.
We're so glad to have her on the Clare Board leading the way and showing us how to #BeTheOne!