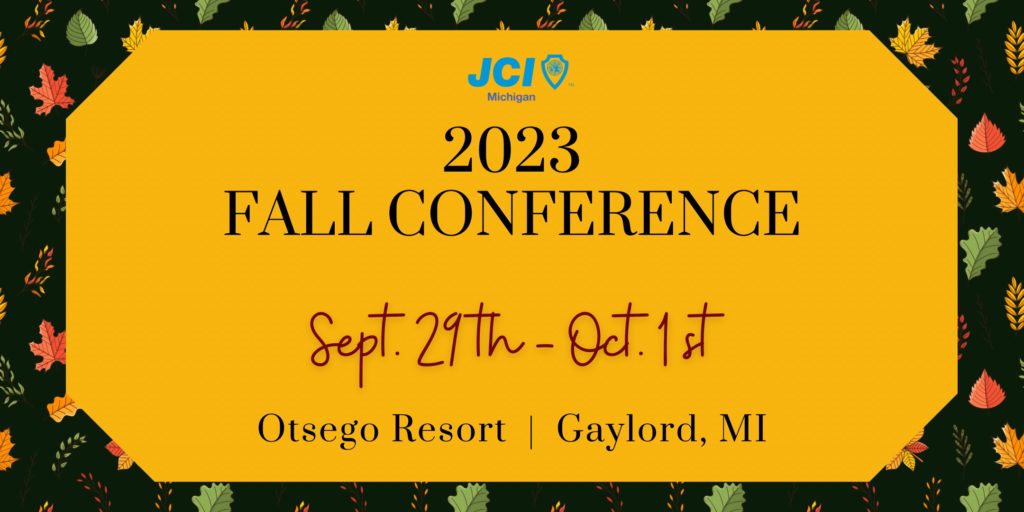 JCI Michigan invites you to the 2023 Fall Conference at Otsego Resort in Gaylord, Michigan from September 29 to October 1. Network with other chapters, hone your professional skills, and grow as a Jaycee in Michigan's Great Up North. Learn more about Otsego Resort here: https://www.otsegoclub.com/
WEEKEND AGENDA: More information coming soon on training opportunities and events. 
Thursday, September 28
5:30pm – 7:00pm Happy Hour at Big Bucks Brewing in Gaylord
Friday, September 29
6:00pm-7:30pm Check-in/Registration
6:30pm – 7:30pm Welcome and Happy Hour
6:45pm – 7:15pm First Timers – This event is open to Jaycees attending their first state conference. JCI Michigan and JCI USA Past President Fay Walsh is emailing communications to people who indicated this was their first conference via registration, so keep an eye out for an email with details!
7:30pm – 8:30pm Music Bingo
8:30pm – 10:00pm Awards Ceremony
10:00pm-12:00am After Party
Saturday, September 30
9:00am-10:00am Business Meeting
10:15am-11:15am Brunch
11:15am- 12:15pm Training- Life Balance
12:30pm-1:30pm Training- Information Security
1:30pm-1:45pm Stretching movements with Emily Bush
1:45pm-2:45pm Training-The Soft Spoken Leader by NVP Stephanie
3pm Senate Meeting – This event is open to members of the JCI Michigan Senate.
3:00pm-7:00pm Free Time
7:00pm-8:00pm Dinner
8:00pm – 9pm 2024 Inauguration and Awards
9:30pm – 12pm After Party
Sunday, October 1
10:00am-11:00am Board Wrap – This event is open to members of the 2023 JCI Michigan Board of Directors.
Trainer Bios:
Jessica Anderson
Jessica Anderson has been a member with JCI Lansing since 2017. Her Jaycee career started by jumping right on the local board of directors. Recently graduated from college, freshly married, and looking for a way to make some like-minded friends, a co-worker introduced Jessica to JCI and I've been hooked since. She has served on the state board and local board in multiple positions every year. She have won national awards as an individual and as a family. Outside of Jessica's Jaycee life, she and her husband have two boys and love to adventure with them! Her family raise pigs and chickens, and can often be found taking road trips around Michigan introducing the boys to new things, especially if nature or animals are involved. Professionally, Jessica works for the State of Michigan.
Jeri Behrmann
Jeri Behrmann is a young active citizen who has been a member of JCI since 2010. She has served at the local level (Livonia Jaycees), state level (JCI Michigan) and nationally for JCI USA.  She currently serves as the 2023 JCI Michigan Senate Liaison and JCI USA Legal Counsel.  Jeri graduated from the 2020 North American Academy. She has been honored as JCI Senator No. 76879.
Professionally, Jeri and her husband own a bankruptcy law firm in Livonia.  As an attorney, she is passionate about assisting people from all kinds of backgrounds to get a fresh start by helping them out of debt, save their homes, cars and return to stability.
Stephanie Corder
Stephanie Joined the Jaycees in 2012, she is currently serving JCI USA as National Vice President over Member Relations. She loves to coach leaders through challenges and celebrate their victories. Stephanie is a servant leader who focuses on empowering and uplifting others. She loves to visit chapters. When visiting, she always shows up ready to work and helps however she can to help chapters be successful.
Stephanie is a decorated Jaycee. Some of her favorite honors are JCI MN Jaycee of the Year, JCI MN Charles Kulp Jr. Memorial Award, JCI USA Outstanding Membership Director, JCI USA Clayton Frost Memorial Award, Lifetime Minnesota Statesman #1649, JCI US Ambassador #4487, and JCI Senator Number #81432. She is also a 10th degree Jaycee.
Stephanie currently lives in South St. Paul, Minnesota with her fiance PJ and their dogs: Vader and Rose, cats: Bender, Henry, and Hilde, as well as "the fish".
Noel Groom
Noel joined JCI South Kent in 2010 and has served in every local position in the 13 years since including 3 terms as local president. He has also served JCI Michigan as part of the technology team, Communication and Technology Director and is currently serving as Training Director. JCI South Kent honored Noel as JCI Senator 74850 in 2016.
Noel began his career as a computer technician in 2001 and has cleaned malware from thousands of systems since then, helping families and individuals regain confidence in their use of technology and their safety online.
Professionally Noel currently serves as Manager – Desktop Solutions for Viking Group Inc, a large fire suppression company based out of Caledonia Michigan. During his 15 years at Viking Noel has held roles as PC Technician, Technology Specialist, Network Administrator I and III. Part of his responsibility as Network Administrator was to review the company security policies, monitor fraudulent email and block access to those who had compromised accounts. Noel took pride in enhancing the overall security presence for Viking.
Noel currently lives in Middleville, MI with his wife Jen, three kids: Damian, Charlie and Lena and two cats: Lucy and Hazel.
THINGS TO DO IN GAYLORD:
• Gaylord's City Elk Park -Viewing areas for the public to stop and watch the impressive herd. Under the city's care, the roughly 40 elk can be viewed from near the Elk's Lodge off Grandview at Elk View Park. The herd is contained on 108 acres. City staff feed the animals corn, hay and sugar beets, plus vitamins. The herd started with three elk when a local nature center closed in the late 1980s. Currently, a few of the bulls weigh well over 800 pounds.
• Go on a color tour – check out a map with directions here!
• Aspen Park
• Otsego County Historical Museum
• Gaylord Area Council for the Arts – The mission of the Gaylord Area Council for the Arts is to enhance the quality of life in our community through the arts.
• Alpine Chocolat Haus – In 1985, in the Alpine Village of Gaylord, der Chocolatmeister of Alpine Chocolat Haus started making his own delicious, high quality chocolats, fudge, brittles and caramel corn.
• The Rusty Pelican – A specialty retail store located in downtown Gaylord, Michigan. Browse our extensive selection of wines, gifts, foods and beverages that are made locally and by family owned businesses.