Thank you to every single participant, sponsor, donor, organizer, supporter, and friend of The Kindness Rally! With our efforts combined 10,165 random acts of kindness have been completed in 2019!  Visit our Facebook Page on November 30th at 4pm for the live announcement of the 2019 overall winner… and see who will take home the Kindness Cup!
We are so proud of all of the hard work put in to create a positive impact around the world. We hope you made some new connections & friends, but most of all we hope you carry the impact of this event with you all year!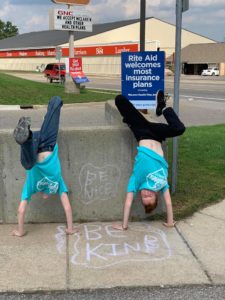 Altogether, The Kindness Rally had 162 teams from Michigan, Hawaii, Minnesota, Ohio, New Jersey, Massachusetts, Canada and Australia. From writing thank-you notes and cleaning up parks, to buying lottery tickets to give away, kindness quickly spread around Michigan during the 4-hour event. Did you see groups of people in Kindness Rally shirts? We hope you did! The goal of the Kindness Rally is to provide a fun way to inspire others to be kind through positivity. So, if you saw an act of kindness completed, were the recipient of a kind act, or just became inspired from all the posts on social media that day, please, pay it forward! Keep the kindness going! Take the impact we made together in 2019 and continue showing kindness throughout the year! Share your continued kindness with #KeepingItKind on social media (remember to tag @TheKindnessRally!).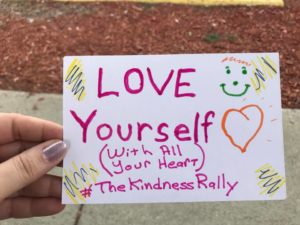 For those of you who do not know, this event originally started as a small local project by JCI Redford member,  Susan Dials. While serving as Community VP, she wanted to focus on everything good about the people and organizations that call the township home. That was only four years ago, and now it is an international event held in over 30 communities in 2019! Any idea, any small project, just needs a little passion!
"More than anything, we simply want to inspire others to do their own acts of kindness and help create a ripple of positivity throughout their communities. No matter how large this event gets, the focus will always be about making a difference on the ground in the local community – where you live, work, and play. If multiple communities do this at once, I believe this ripple effect can change the world" says Dials.
As The Kindness Rally started to grow, the JCI members have been leading the charge to help show the world that it's fun to be kind. The event spread to other JCI Michigan chapters around the state in 2017, and the number of chapters participating has grown every year since! The JCI organization has continued to host, sponsor, and provide volunteers as The Kindness Rally keeps growing around the world, with JCI Canada and JCI Australia joining in!
There was a lot to manage this year! We are so thankful to have a wonderful committee running this event. Thanks again to Michigan's own Samantha Jonas, Sarah Fappas, and Angela Wolf for stepping up to spread kindness beyond the Great Lakes in 2019.
This was also a huge growth year for with greater financial need due to increased participation for the event which is run completely on sponsorships and donations. We want our participants to focus on giving back to the community, so The Kindness Rally raises the funds to cover all event costs and shirts. The continuous support from sponsorships is what keeps this whole thing going strong!
The national event sponsors include:
Planet Fitness, Bridget Benton, Qualigence International, KIND Snacks, Michigan Jaycees Foundation, JCI Michigan, Peace Is Possible Global Community, LMR & Associates, PLLC, Faithful Companion Pet Cremation Services,  George Matick Chevrolet, No Money No Time Printing (who also made over 870 t-shirts for the event!), Coeus Creative Group and our individual donors. Plus, a special thank you to the Michigan Community Service Commission for the #911day #dayofservice grant we received in partnership with Volunteers of America  for the generous support!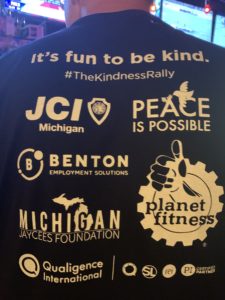 Together we raised over $8,500 to put on our largest event yet! We completed over 10,000 acts of kindness, which hopefully made the day brighter for 10,000 people, who will pay it forward to 10,000 more. We are changing the world, one small act of kindness at a time.
Remember – It's fun to be kind!
Follow The Kindness Rally at @TheKindnessRally on Facebook and Instagram, or visit thekindnessrally.org.