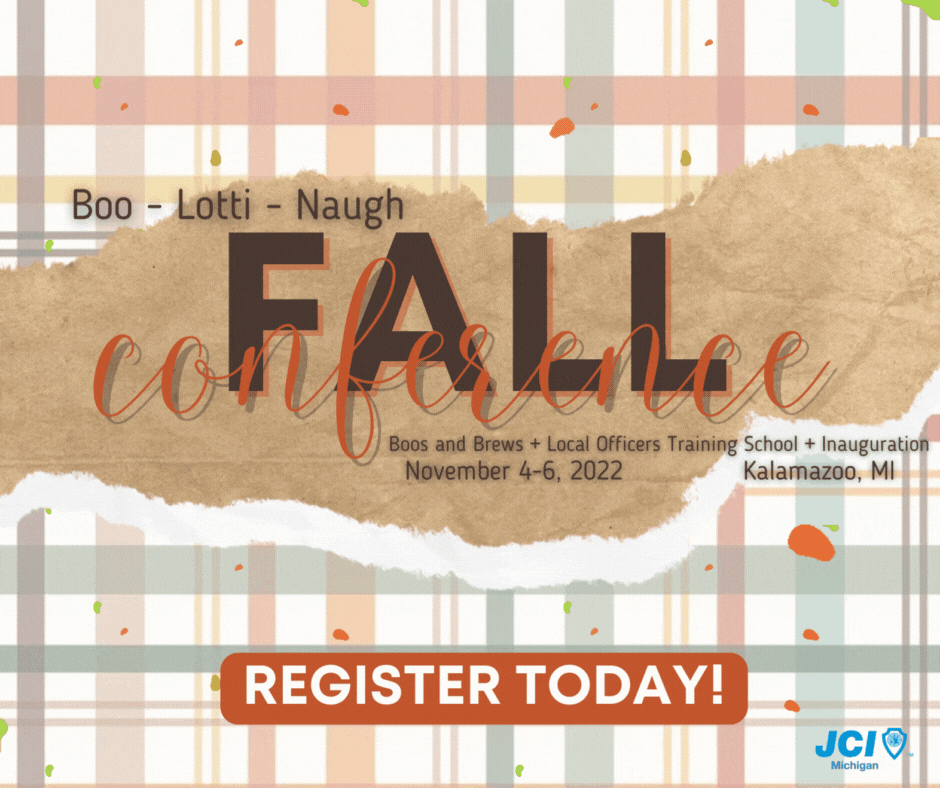 Join us for a weekend of fellowship, leadership development, personal growth and positive change!
Celebrate our success and look to the future with training and the inauguration of our 99th President! With an agenda like this, you won't want to miss this event!
Tentative Agenda:
Fri. NOV 4 (Dress: Best JCI Gear)
5:30 – 7:00 pm Happy Hour and Snack
6:30-7:30 pm GlueUp Admin Training for Newly Elected Chapter Boards (President/Membership)
6:30-7:15pm First Timers
7:00 – 8:00pm Speed Recruitment 101 and SPE Trainings (30 min each) **
8:30pm – 12am Boos and Brews (Dress: Halloween Costumes encouraged) – JCI Kalamazoo presents Ghosts of Kalamazoo Tour combined with stops at various bars downtown. Join us for our welcome event in exploring town. Awards for best costumes will be presented on Saturday night.
Sat. NOV 5 (Daytime Dress: Business Casual. )
8:00 – 8:30am Low Impact Yoga with Ann Arbor President Emily **
8:45 – 10:00am Business Meeting **
10:15-11:30am Brunch with Bonnie (70th President of JCI Michigan)**
11:30am – 1:30pm LOTS **
2:00-4:00pm Volunteering in the Community
4:00-7:00pm Free Time
7:00 – 7:30pm Cocktail Hour/ PowerPoint Karaoke (Dress: Cocktail/Semi-Formal )
7:30 – 8:30pm Dinner
8:30 – 9:00pm Inauguration and Awards
9:00 – 9:30pm District Wraps
10:00pm – 1:00am After Party
**These events will be available for virtual registration.
Hotel Information for Radisson Kalamazoo:
Please follow the instructions below to receive the discounted group rate online:
Visit: https://www.radissonhotelsamericas.com/en-us/hotels/radisson-kalamazoo-center
Select dates of stay: Must be within the group block dates of 11/03 – 11/06/2022
Under "Special Rates" select: Promotional Code
Enter "Promotional Code": JCIML
Click: Check Availability
Complete reservation
Your guests can also make a reservation by calling our in-house reservations team at (269) 343-3333 (during regular business hours) and letting the representative know that they are with the JCI Michigan Leadership Conference.