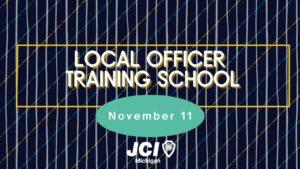 Local Officer Training School, more affectionately known as LOTS, will help prepare Jaycees stepping up to their local board next year with helpful sessions featuring current and past state board members and local Jaycee leaders. Register here!
Agenda:
9am Welcome – Michelle McGrann
9:15am- 11:00am Building the Organization We Want
11:00am – Break
11:15am – 12:00pm Gen Z panel
12:00pm – 1:00pm working lunch with your chapter
1:00pm – 2:00pm Role Specific Training
Programming
Membership
Marketing/ Comm Tech/Finance
2:00pm Break
2:15pm – 4:15pm Building a Chapter Plan.
4:15pm – 4:45pm 10 Best Practices for a Strong Chapter
4:45pm – Closing
This event will take place at the Michigan Chamber of Commerce in Lansing, Michigan on Saturday, November 11th from 9am-5pm.
600 S Walnut St, Lansing, MI 48933-2209, United States