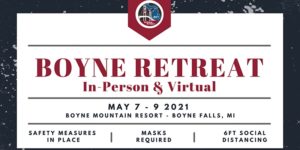 JCI Michigan will be hosting our Spring Retreat at Boyne Mountain Resort on May 7th-9th, 2021!
There are plenty of options to Choose Your Own Boyne Adventure!
JCI Michigan has planned a retreat just for you! Whether that is In-Person at Boyne Mountain or joining us Virtual in your own home, there are many options available. For those joining in person, let's continue to do our part to stay safe and be able to see one another! Safety measures are in place, 6 ft social distancing and masks required when we are around others. We understand each situation is different and some chapters will choose to be in their Boyne Pod in a condo, some may choose to reserve an individual or small group in the Clocktower. Whatever your chapter pod looks like, we are all JCI Michigan!