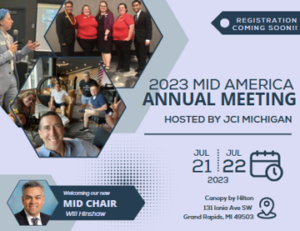 Please join your fellow Michigan Jaycees for this year's Mid America Institute Meeting and Meet the Candidates.
Location: Canopy by Hilton – 131 Ionia Ave SW, Grand Rapids, MI 49503
Date: Friday, July 21 and Saturday, July 22, 2023
Registration Link: Please click here to visit the Eventbrite page to complete registration.
Info:
We are thrilled to host you this year for our annual meeting! If you are looking to connect with fellow members from around the country while working on your leadership development skills, you have come to the right place!
Join us Friday, July 21st to kick off our scheduled events with an excursion that includes a tour of beautiful downtown Grand Rapids and a Cultural Cooking Demonstration with local Rooster Johnny Lui. (The menu for this event will be available after registration closes, as we must consider all dietary restrictions during the planning of this delicious event.)
Saturday will include a full day of trainings put on by the Mid-America Training Committee and a delicious Brunch and Waffle Bar. We will end the day with an opportunity to hit the town with our fellow members for dinner, drinks and more!
Sunday morning, JCI Michigan plans to host a Meet the Candidates event followed by an opportunity to get FREE professional headshots taken. More information on this coming soon. For now, we recommend you plan to leave later in the day. We promise you won't regret it. (Especially if you are planning to run for a national office, but you didn't hear that from us.)
A full agenda will be available as we come closer to the event. If you have ideas on trainings that you and your fellow members would like to see, please contact your state President so they can relay the information to the team!
If you are interested in attending the event virtually, please contact us at [email protected].
FRIDAY, JULY 21ST
6:00pm: GR tour & Cultural Cooking Demonstration
Please be sure to include your arrival time during registration. If you do not yet know your arrival time, you can contact us later with the information. We will be shuttling people to the event during the hours of 6-9pm.
Please also include ANY dietary restrictions, especially regarding allergies!
Mid-America will host a hospitality suite at the hotel following the evening's events.
SATURDAY, JULY 22ND
9:00-11:00am: Morning Training Sessions
11:00-12:00pm: Brunch & Waffle Bar
12:15pm-4:00pm: Afternoon Training Sessions
6:30pm-10pm: Dinner & Pub Crawl in Downtown GR
Agenda subject to change with dramatic improvements as we get closer to the event.
Mid-America will host a hospitality suite at the hotel following the day's events.
The cost of Saturday dinner is not included in the ticket price, however, we are looking into partnering with local restaurants for discounts if you wear your finest JCI gear.
SUNDAY, JULY 23RD
Plan to stay with us until at least 1pm if you can, you will not be disappointed!
More information coming soon!