My fellow Wolfpack,
Well, 3rd quarter is done and I was amazed by our effort and teamwork on closeout. We need more of our teamwork throughout the quarter! While that was amazing, I'm not going to lie…The final result stung. We were way off..
However, I'm not gonna dwell on that for another second!
I T .  I S .  T I M E !
I am done playing games and waiting for things to happen. I can't standby while JCI Michigan is not meeting our growth goals.
We ARE
providing the best opportunities for young adults.
Our or
ganization is

ready to grow!

It is time to capitalize. I had a long talk with Membership Vice President Jaymi Dormaier and we agreed that it is time for the gloves to come off.
4th quarter has begun and with it we are turning it up to 11!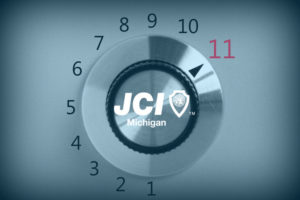 We are going to mobilize and take massive action to bring our numbers in line with our potential.The giant has awoken within us. We are going to get after it! The only question is will you be running with the pack or sitting on the porch? It's 4th and 100 and we are going the distance.
It's time to gather the WolfPack.