JCI MI – it's time to Be The One as we come together to learn, socialize, compete, present, and showcase all the amazing things we have done in Trimester 1 of 2020.
We can't be together in person so we are bringing the conference experience to you at home!
Conference Schedule:
(see below for details on each item)
May 7, 9:00 PM – JCI MI Board of Directors Meeting
May 8, 8:00 PM – Welcome Party
May 9, 9:00 AM – Fellowship Breakfast
10:00 AM – Training: You Matter! Your mental health matters with Sarah Fappas
11:00 AM – Training: Interview Like a BOSS with Noelle Nachreiner
12:00 PM – Training: Opportunities in JCI with Carena Townsend, Steve Fappas, and Steve Pickelmann
1:00 PM – Training: Make Noise with the Membership Team: Carol Pickelmann and the District Directors
2:00 PM – Training: The Secret Life of the Worker Bee with Jeri Behrmann, Jessica Anderson, Shannon Brunt, Jamie Hekker, and Jennifer VanOosterhout
3:00 PM – JCI Talks featuring Adam Bonarek, Chris Crawford, James Dreher, Jessica Bocade and Arianna King
May 16, 10:00 AM – JCI MI Virtual Competitions * participants will be contacted with their scheduled start time for their competition
May 16, 7:30 PM – JCI MI Membership Social
May 23, 10:00 AM – SPE Presentations * participants will be contact with their scheduled start time for their presentation
May 23, 7:30 PM – JCI MI Membership Social
1st Trimester Awards and Recognition Ceremony:
Stay Tuned as we are hoping to be able to have an in person opportunity in June. As we wait to see how the pandemic regulations change over the next few weeks we will bring you more information.
Training: You Matter! Your mental health matters with Sarah Fappas

Let's take a deeper look at thoughts and how they relate to feelings, behavior, and your well-being.

Training: Interview Like a BOSS with Noelle Nachreiner
Landing a job interview is exciting, but it's really just the beginning. Learn how to nail any interview you pursue – from what to wear, to how to respond to those dreaded questions, Noelle will teach you the fundamentals of successful interviewing that will help you land your dream job or anything else you may be vying for. By the end of this session you will be ready to interview like a BOSS!
Training: Opportunities in JCI with Carena Townsend, Steve Fappas, and Steve Pickelmann
Are you thinking about moving up on your local board? Want to know how to join the JCI Michigan board? Want to learn more about the opportunities available at all levels of JCI? If you answer maybe or yes to any of these questions, this is the training for you. Join D3 Director Carena Townsend, Immediate Past President Steve Fappas and Primary National Advisor/92nd Past President Steve Pickelmann to learn more about serving in leadership roles with JCI.
Training: Make Noise with the Membership Team
For all things membership related check out this session!
Training: The Secret Life of the Worker Bee with the Programming Team
Develop the skills and learn the insights needed to be an effective board member. Engage with experts to learn the secrets of operating your hive through breakout sessions for our areas of opportunities.
Noelle Nachreiner may not have a Human Resources background, but she is a master at killing job interviews, once going from first interview to job offer in less that one week. Noelle has pro tips to share which will help you ace interviews and leave the interviewer asking when you can start! In June, Noelle was offered a position perfectly tailored to her skills – serving as a development manager and leading the efforts of the Michigan Ag Council to build trust in Michigan's farmers among consumers. This unique opportunity brought her back to her home state of Michigan after 15 years, where she resides in Charlotte with her husband Ian and dog, Hank the Tank. Noelle served as the 98th National President for JCI USA in 2018 and is a member of the Livonia Junior Chamber. She is Senator #76567 and a Life Member of JCI USA.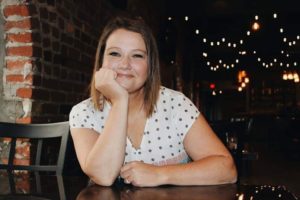 I am a Master's level Clinical Social Worker (LMSW) focusing on helping clients, children and adults, build a healthy concept of themselves and others, as well as, create safe, non-toxic, understanding relationships with others. My passion is helping people who have been through or are going through a traumatic or stressful experience find their path to healing and recovery. I treat mental health issues including depression, anxiety, mood disorders, trauma, ADHD, self regulation, phase of life issues, relationship issues, grief/loss, and stress management. I am currently in my 14th year working as a psychotherapist at Ascension Eastwood Behavioral Health where I offer a kind, non judgmental, safe space for my clients to share their experiences, find solutions, and discover their true selves. I am fascinated about the advancements made in neuroscience and research and how to apply findings to current treatment. I received my MSW and a BA in Psychology from Wayne State University.
Carena Townsend has been a member of the Ann Arbor Jaycees since 2011 and currently serves as the 2020 JCI Michigan District 3 Director. Carena has served on her local board as Director (2013 and 2015) and Membership VP (2014) before deciding to follow her dreams and live abroad. For 2 years she lived in Prague and Hong Kong while pursuing her Masters in International Business before returning to Ann Arbor. Carena immediately jumped back into her local chapter serving on the BOD as Membership VP (2018) and President (2019). She is a Stark, Peacock, Lichwala and Luthy award recipient. When not planning or creating fun projects, Carena is traveling the globe and playing.
Steven S Fappas joined the Wyandotte Jaycees in 2004. Since joining he has spent nearly every year of his 15 year Jaycee career on the board of directors either for his local chapter or JCI Michigan. He started a successful real estate business in 2010 using the help of a dear Wyandotte Jaycee friend Shaun Abshire using a PMG as his business plan. Steve loves all things Membership in the Jaycees and does whatever it takes to help people grow as leaders. He met his beautiful wife Sarah at a Leadership Conference in 2005 and together they have 2 children Steven and Ethan. Last year as State President his theme was "One Team One Dream" because he believes that when we all work as a team we are the strongest!
Steve is born and raised in Frankenmuth.  Now, he lives in Kalamazoo with his wife Carol, and their two daughters Ivory & Isabelle.  He graduated from Frankenmuth High School, and then from Alma College, with a Bachelor's Degree (Double Major of International Business and German).  Steve has worked for the past 17 years as an Insurance Producer with the Judd Insurance Agency in Birch Run.  He is licensed in Property & Casualty, as well as Accident, Life & Health insurance.  He holds the AAI (Accredited Advisor in Insurance) designation.
Steve joined the Frankenmuth Jaycees (Junior Chamber) on January 14, 2008 and JCI Kalamazoo on January 19, 2018.  Since then, he has held numerous leadership positions in the local chapter, as well as on the Michigan Jaycees Board of Directors and the JCI Board of Directors.  He was local chapter president in 2011.  On the state board, he has served as District Director (2x), Membership Director, and served as the 92nd President of the Michigan Jaycees in 2016.  In 2018, he was the National Vice President of Member Relations for JCI USA.  In 2020, he is serving as the JCI Michigan Primary Advisor to the Mid America Institute.  Over his 12 years, Steve has recruited roughly 100 members into the organization.
Along with his duties in the Jaycees, he serves on a few other committees.  He has served on the Frankenmuth Sister City Committee since 2004.  Within that organization, he ran a golf outing to send Frankenmuth HS German students to Germany for the summer to better their German language skills.  He went on the inaugural trip in 1994, so it is a program near and dear to his heart.  He also sits as a liaison to the Frankenmuth Civic Events Council, who put on the Bavarian Fest.  He also is a member of the Young Agents Council within the Insurance industry.
His hobbies are playing and watching sports, hanging out with his family and friends, traveling, and reading.
His favorite project is World Expo of Beer.  To see that many people working in unison to create great impact within not only the Frankenmuth community, but within other communities, is awe inspiring.
He stays involved with the Jaycees, because he likes to meet new people, see long-lasting friends, and offer them the same opportunity to learn leadership skills while helping the community become a better place to work and/or live.
In 50 years, he hopes that the Jaycees are still a relevant organization for young people to have fun and learn service to humanity.  Hopefully, in 50 years, we have more than double the number of chapters in Michigan than we do now.