The Kindness Rally: 2019 – It's back and better than ever!
What is The Kindness Rally?
The Kindness Rally is similar to a traditional road rally, however, instead of finding landmarks, teams will be challenged with performing random acts of kindness all around town. Participants have a mission to spread positive vibes, find creative ways to give back to the community, and make connections with local residents, community groups and businesses. Examples of a Kindness Rally challenge may be to write a thank-you card for a local police officer, clean up trash at a local park, or even to help a resident carry groceries to their car.  Teams use social media to showcase their community impact and encourage others to 'pay it forward'
 
'Our mission is to provide a fun way to inspire others to be kind while combatting negativity with acts of positivity in local communities'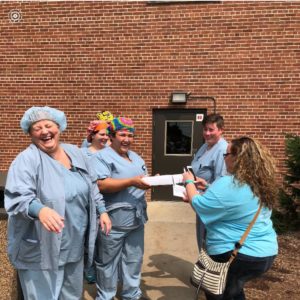 What does my organization need to put on the Kindness Rally?
In its simplest form, this is a road rally that requires crafting supplies like markers, tape, paper etc. in order to complete random act of kindness challenges in your community within an allotted time frame. All you need are:
Teams of 2-5 participants
Bags of crafting supplies for each team (list provided to organizers)
A social media guru to share your positivity with the world!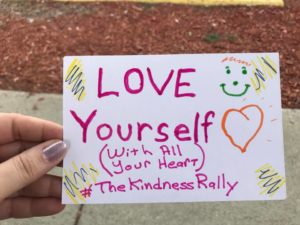 Provided by The Kindness Rally for each team:
The official listof the challenges
Event T-shirt
Assistance with supplies for chapters in need
Allegan
Auburn
Burton
Cadillac
Clare
Farmington
Gaylord
Grand Rapids
Kalamazoo
Lansing
Livonia
Ludington
Muskegon
Redford
Rochester
Saginaw
South Kent
Westland
Wyandotte
We are still adding rallies! If you want your name on the list, let us know! Check each of these events here.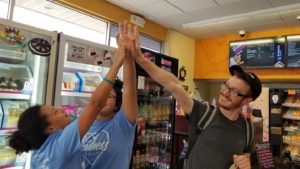 Sponsorships:
Our partners make this event happen! 
The Kindness Rally is completely funded by donations and sponsorships and powered by JCI Chapters and local organizations and community groups. Your contribution helps us purchase supplies and t-shirts to make sure every interested community can participate. This year we are also trying to utilize an existing iOS/Android application to make the event flow a little smoother and allow more participants from around the world to jump in on the kindness! The additional money we raise goes directly back into the communities that host kindness rallies to support random act of kindness efforts on the local level. Our 2019 sponsors so far are JCI Michigan, Benton Employment Solutions, and Planet Fitness. If you or a company you know would be interested in sponsoring this event, please have them contact [email protected]
History
Piloted in Redford Township in 2016, we started this adventure as a JCI project with 250 acts of kindness being completed in one community. By 2017, seven communities with 28 teams around the state of Michigan completed over 1,200 acts of kindness in three hours.  In 2018 we went international and completed over 3,000 acts of kindness over 77 teams throughout Michigan, Colorado, Ohio, Minnesota and even Australia! That is 175% growth in participation. All in all, our organization has encouraged over 4,450 acts of kindness! Can you imagine the growth we are going to see in 2019!? Check out @TheKindnessRally and #TheKindnessRally to see more!
We're creating a ripple of positivity around the world. Do you want in?
If your local JCI chapter or organization wants to participate, you need at get at least one to two teams to commit to the event.). You can also ask community organizations in your area to have a team, if you would like. Once you know how many teams you plan on having, you can plan how much supplies you will need and make a strategy to purchase them. The Kindness Rally committee will provide the list of kindness "challenges" and shirts that you will need for the road rally, but your chapter may need to fund the supplies on your own.
We are adding new rallies to our calendar every day! If your state, province, city, township etc. wants to participate – please contact [email protected]. We would love to have you!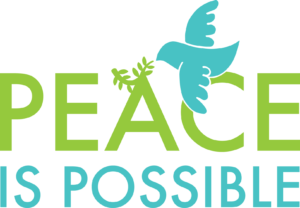 Peace is Possible
This year we are partnering with JCI International and the Peace is Possible Campaign to perform our acts of kindness as part of International Day of Peace. Learn more about this campaign here: https://www.peaceispossible.cc, Download the app here.


Contact us
 We have an incredible committee to assist you! 
Contact us at [email protected] or 313-284-2890
You can sign up for The Kindness Rally here.
Check out our website at thekindnessrally.org.
Find us on social at @TheKindnessRally!